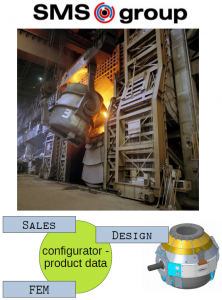 For SMS group, a group of companies internationally active in plant construction and mechanical engineering for the steel and nonferrous metals industry, allpccloud GmbH develops a product configurator which is applied as internal productivity tool in mechanical design and engineering of BOF converters.
Product data is centrally stored in a tailored configurator core and is available via interface plugins. The sales department supplies specification data which is used by design (CAD) and FEM in their specific software environments.
Data exchange is seamless, the data set can be built incrementally and adjusted to customer needs; a highly flexible process open for future extensions leading to even more optimized products and increasing error free engineering processes in shorter time. With this architecture, SMS group has improved her internal engineering processes for BOFs drastically.